We just threw a sixth birthday party for Matthew. He wanted a Harry Potter theme, and I thought it would be fun to have a magician. I did a web search for magicians in Sacramento, and ran across the site for The Science Wizard. I was impressed with the Wizard's web site (he's got some videos you can download and get a tiny taste of the action) and ended up booking the show.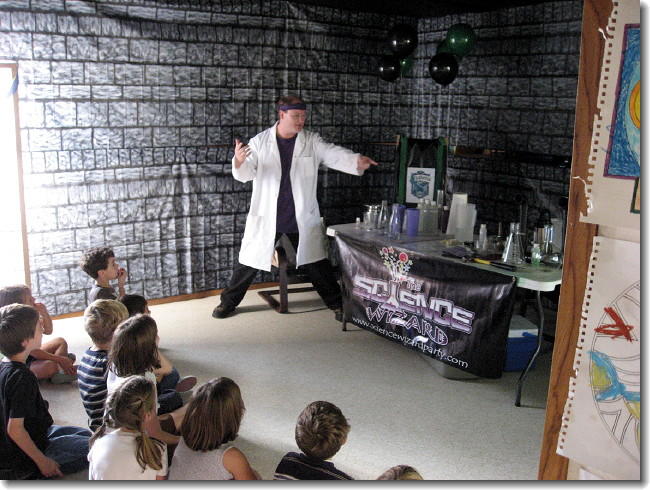 As the party date approached, I became somewhat apprehensive. We were having about 20 kids, mostly 5 and 6 years old. The show was supposed to last an hour. Ever try to keep the attention of a gaggle of sugar-hyped, partying kindergarteners for an hour? I hadn't made any plans to entertain them should the Wizard lose their interest.
I needn't have worried.
The show was awesome, in ways I won't even try to describe. He not only kept the kids rapt for the entire hour, but he drew in most of the adults, too. Matthew is still talking about the experience, and I'll remember it always. If you're planning a Sacramento-area party for kids of any age, and are looking for a unique kind of entertainment, definitely give this guy a call. Thanks, Science Wizard
— Ron – 26 Sep 2007
In 2009 and 2010, Matthew asked to have The Science Wizard come back. The shows kept getting better. Today we asked him what he wanted to do for his birthday, and he requested The Science Wizard again! He's moved well past his kindergarten interests and there is very little that he liked then that he still likes now. It's a testimony to The Wizard that he wants to have him back for a fifth consecutive year. Half a lifetime of interest! —

Ron

 – 22 Aug 2011
The Wizard was so great, we decided to invite him back for this year's party (2008). He was, again, stunning. There are a lot of pictures of the party and the Wizard (and a lot of other things) in this slide show. —

Ron

 – 22 Oct 2008